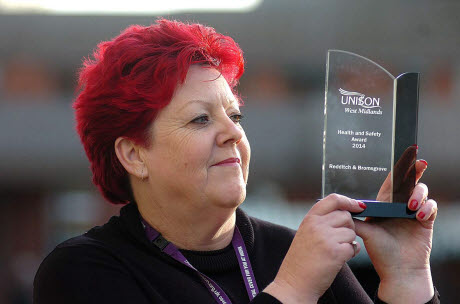 Award for workplace mental health work
WORK done in the borough to promote mental health has been recognised regionally.
The Redditch and Bromsgrove branch of UNISON has been given a health and safety award by the union for their efforts to reduce stigma and enable employees to come forward if they experiencing issues. They were also highly commended in the regional TUC awards.
Part of their work has been around the Time to Change pledge which the council has just signed up to, including supplying the trainer and the funding for the awareness sessions, supplying resources for Time to Talk days for staff, getting Headgym involved in the pledge and lobbying the senior management team and councillors.
Branch secretary Laney Walsh said: "Mental health is a big issue within the workplace that's not spoken about. This hopefully gives people security and the belief they can open up and speak openly with their employers.
"The pledge doesn't stop here. It isn't about signing it and hanging it on the wall, the work around the pledge will continue."
The most profitable investment is the one you're making to your own health. Do not miss your chance to get stronger, healthier, self-confident and tons of positive energy! Sign up to the Headgym to build yourself esteem!